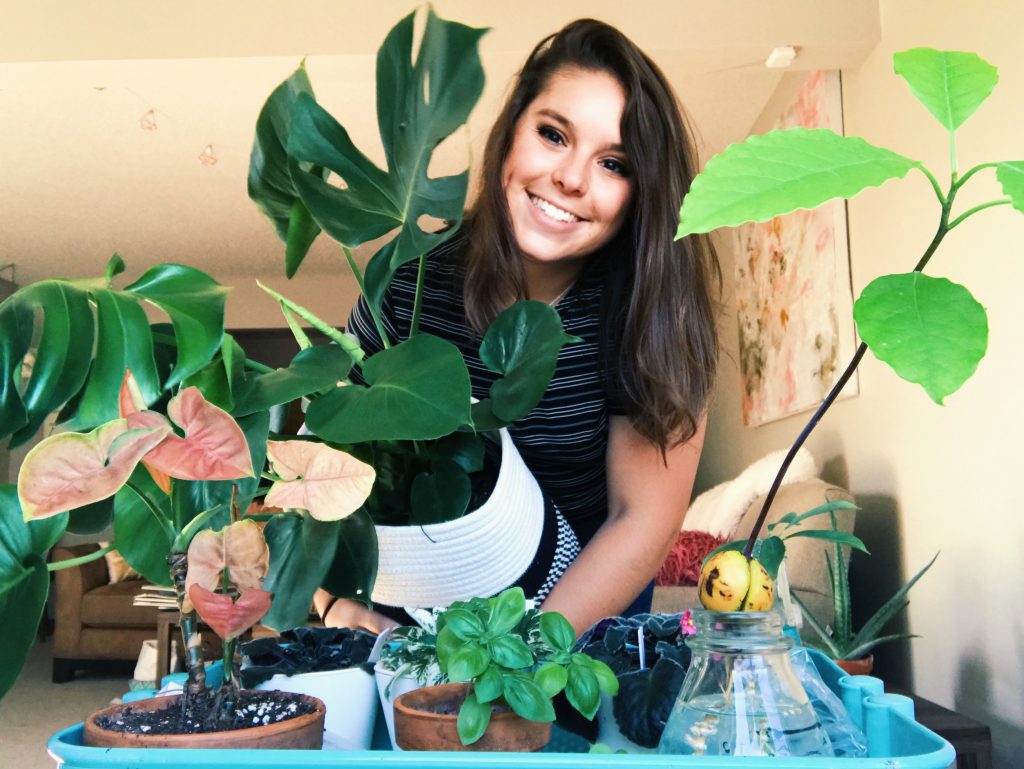 Last week, I became the proud owner of my dream plant – a beautiful 10" monstera deliciosa. I drove home from the nursery with the plant belted into my passengers' seat and called my parents when I got home to tell them about the newest edition to my 29-member plant family. Though my strong plant addiction certainly had a lot to do with this purchase, social media also played a crucial role in the process.
Born in 1998, I belong to Generation Z, which according to the Pew Research Center encompasses people born in 1997-2012. Like my teenage and early 20's peers, social media has a heavy hand in my purchasing habits. I have been doodling monstera leaves in my notebooks since high school but engaging with a local Omaha garden store on social is what finally gave me the push I needed to invest in my first big tropical.
This garden store quite literally has it all, from teeny succulents to towering banana plants. They have been an Omaha staple for generations and have amassed not only loyal patrons to their sprawling greenhouses but a dedicated following online, amassing over 23.5k followers on their Instagram. I have been following them since I moved to Omaha, and they have been my destination of choice for Instagram houseplant content. Once a week, the account shares their favorite posts tagged with their own hashtag to their Instagram Story, showing gorgeous photos of happy plants from happy customers. They also do Q&A sessions on their page where followers can ask the experts questions and get advice. Followers are highly engaged, and the store's social media has even drawn followers from far outside Omaha limits just because of their fantastic content. Their photos range from pics of the latest arrivals to the greenhouse, grinning employees, or plant inspo from other plantstagrammers. They have a strong community presence in Omaha and have been a fixture in the local business community, from attending local events like Hutchfest or hosting shows and workshops.
I spent almost a whole year taking care of smaller plants, testing my green thumb to see if I was ready for a big plant. I watched countless YouTube videos, stalked the store's page constantly and dreamed of going to see the impressive greenhouses in person. It's also so important to me to support a local business. I knew that they loved plants as much as I did and felt that I could trust them to sell me a stellar specimen. After a year of looking at the incredible monsteras in my Instagram feed (and only killing two plants,) I was ready. I drove out to and picked out my new plant.
Capturing the attention of Gen Z's like me has proven tough for many companies. We can smell an ad from a mile away and are far less brand loyal than our millennial predecessors. So, what are businesses to do? Here are some takeaways:
If your social is 100% promotional, we want nothing to do with it. Gen Z craves authenticity and is repelled by the hard sell, preferring to engage with brands online and create a conversation before we make a purchase. Mixing promotion into entertainment, information and user-generated content is the best way to keep digital natives like us from moving on to someone else. In fact, 40% of us expect to see user-generated content before making a purchase. Take a page out of this store's book and show off your happy customers, give them advice and engage with them. Earn their trust and affection with your content.
There is a method to our madness. According to Brittany Hodak in AdWeek, Gen Z uses Instagram for brand discovery, researches like crazy on YouTube, then heads to a brick and mortar store to get the goods. We like the shopping experience. In fact, 98% of us shop in physical stores "some or most of the time." If you know our purchasing process, you can meet us where we are.
Finally, we care… a lot. We are innovators, hard workers and we are unafraid of change if it means the world can be a better place. We care about putting our money where our mouth is. According to PSFK Research Gen Z are "Digitally-born and turned ON in the pivotal time of the Connected Age, … eager and passionate to solve, overcome and make positive change happen. Gen Z are both creators and born players in the game of Life."
Take it from me, the Gen Z social media intern, and steal your consumer's hearts like this wonderful plant nursery stole mine.