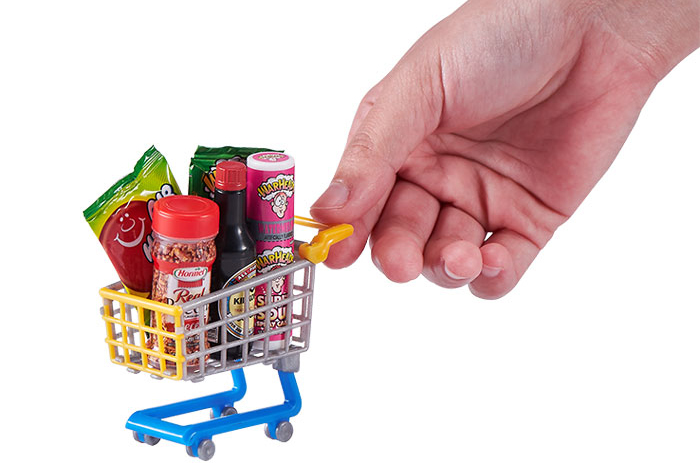 When I was a kid, I used to love playing grocery store. My siblings and I would tape up old cereal boxes, wash out Tide bottles and anxiously wait until an egg carton was empty so we could collect it. Now, as a 20-year-old intern and a big sister of three little girls under the age of 10, I get to see a whole new generation of children get hooked on playing grocery store. Only this time, instead of a life-size grocery store filled with personally selected inventory, children are shopping small, with products that are a surprise even to the grocer.
According to an article by the Washington Post, Zuru's 5 Surprise Mini Brands are some of the most sought-after toys on the market right now. (They're sold out online at Walmart.) But, what exactly is a 5 Surprise Mini Brand and why do kids want one so badly? Mini brand toys are miniature versions of name-brand household and food products, all wrapped up in a plastic sphere. The children who purchase these toys remove the packaging, open the sphere and then unwrap five separate wedges – containing four mini brand toys and a mini shopping cart, store shelf or grocery basket. What toys are found inside? Kids have to unwrap to find out.
The mini brand items might be anything from an itty-bitty Breyers ice cream tub, to a teeny-tiny Lipton green tea box. There might be a Skippy peanut butter or a Pure Silk shaving cream, but whatever is inside, the toy is always miniature and always branded. Each surprise ball also comes with a collector's guide featuring regular, rare and super-rare mini products. The toys are produced by Zuru, a toy company that advertises as "reimagining play, every day." Mini brands cost about $5 in-store, however since they are sold-out in most locations, many are reselling them online for as much as $20.
While these toys may seem a little odd, there is nothing incredibly complex about them – in fact, many of the toys are simply miniature cardboard boxes with a picture glued on top. The extraordinary thing about Zuru's mini brands is the advertising niche they have discovered. Zuru intentionally tries to inspire brand loyalty from a young age and, as an older sister and a long-time babysitter, I have to say I think this strategy is probably quite successful. Every kid is going to want some Skippy peanut butter to match the mini jar that they're feeding their Barbies or stuffed animals.
While marketing directly to a parent's most influential decision makers – their children – is smart, Mini Brands have done something that is even sharper: they allow brands to have free advertising and Zuru to have more products. According to the same article by Washington Post, brands do not pay to be featured toys, but they do earn royalties. Partnering with Zuru is a mutually beneficial relationship – a true match made in heaven. And, thanks to another bizarre trend, Zuru and their partners get even more free advertising.
Kids are into some weird things these days – one of them being "unwrapping" videos on YouTube, one of the latest influencer trends geared toward a young, Gen Z demographic. In an unwrapping video, YouTubers buy surprise toys, (or sponsored YouTubers receive the toys for free). They then record themselves opening the toys, such as 5 Surprise Mini Brands, and reveal what toys are inside. The end result: free advertising for Zuru and partners! Children watch these videos for hours sometimes and then beg their parents for the toys so they can unwrap their own surprise. (And keep unwrapping until they collect all the minis from the collector's guide.)
So, what can we learn? Zuru demonstrates that partnerships – even ones that don't seem to make sense – can sometimes create incredible products together. Businesses, take note. Don't be scared to experiment with unique partnerships. Marketers, Zuru teaches us that no idea is too big, too small or even too odd. Zuru shows us that a small risk, may lead to a huge reward – but only if you take the risk.