Christin Goetz, project manager in Bozell's Brand Navigation practice, has been selected as Ad Rookie of the Year by the Omaha Federation of Advertising (OFA). Goetz was recognized at the OFA Meet the Pros Keynote Luncheon on February 10.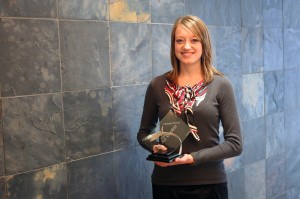 The Ad Rookie of the Year recognizes an OFA member with five or fewer years in advertising who demonstrates outstanding work both professionally and in the community. Goetz manages the Right at Home, Inc., and Market to Market Relay accounts and provides primary account support for Alegent Health, the College World Series, Inc., and United Way of the Midlands. Prior to working at Bozell, Goetz held internships with the communications department at Metropolitan Utilities District and the marketing department at Alegent Health. She graduated from Creighton University with a bachelor's degree in journalism.
"Christin gives her best, day in and day out. She's an outstanding young woman who's dedicated and flexible, and we are so pleased to have her as a part of our team," said Angel Carl, Vice President, Marketing at Right At Home.
Goetz chairs the Omaha Federation of Advertising's education committee, and over the past two years, has established a seminar for professors at Meet the Pros and the "Smart Spending. Big Profits." small business symposium. She is also a member of Moxie Paper Press, a young independent publisher in Omaha and is a contributing writer for Food & Spirits magazine.
"Christin is a rising star in the Omaha advertising community. This award is an acknowledgement of her outstanding professional achievements – and those yet to come. She has a tenacious spirit, is forward thinking and is a persistent student of marketing," said Kevin Hutchison, Partner in Charge, Brand Navigation at Bozell. "She is devoted to our industry and to our community. We are thrilled to have her on the Bozell team and I believe that we will be hearing more about her in the future!"
About Bozell
Bozell is an integrated marketing communications company with offices in Omaha and Kansas City. Bozell combines qualitative and quantitative methodology to get close to its clients' customers. Bozell then uses advertising, digital marketing, dialogue relations, technology and innovative creative to provide targeted solutions for local, regional and national clients. For more information, visit www.bozell.com.