When the largest privately held bank in the nation wants to celebrate its 150th anniversary, one thing is fairly obvious. It's got to be big. That's the exact realization Bozell came to when they began work on First National Bank's 150th anniversary campaign.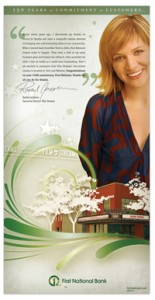 We've all seen the stereotypical anniversary campaign. They're two parts historic photos, one part folksy music and a heavy dash of sepia tones. While they might appeal to the history buffs among us, they don't score very high on the relevance meter. That's when we realized First National's 150th anniversary campaign had to address how the bank truly interacts and impacts people's lives today.
The campaign featured modern day customers, employees and community leaders  telling their stories in a testimonial format. While this format is nothing new, behind them are highly stylized animation techniques and graphic design that gives the campaign a fresh, compelling and modern feel.  The brand message is tightly integrated across all channels, retail promotions and offerings making it the most comprehensive effort in First National's history.

Consisting of television, out of home, newspaper, online and other media, the  year long campaign was supported by a wide array of community events, sponsorships and public relations campaigns.  Tracking research showed an increase in "consideration" scores among non-customers and a dramatic increase in switching preference.