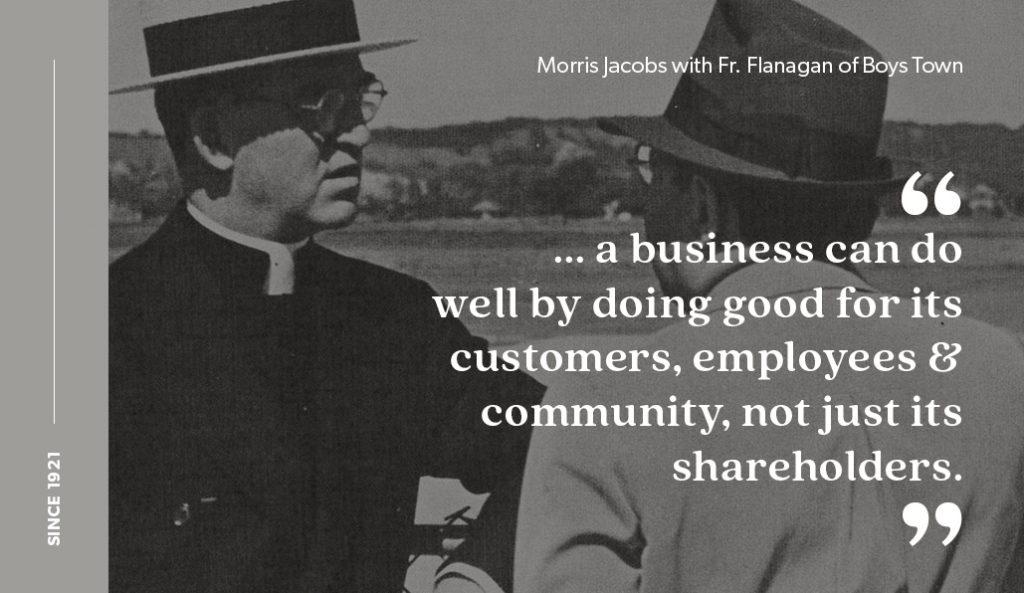 There has been a lot of conversation recently about the interconnectedness of profits and purpose – the idea that a business can do well by doing good for its customers, employees and community, not just its shareholders. For example, I recently read this statistic:
"Globally, 94% of consumers said it is important that the companies they engage with have a strong Purpose, and 83% said companies should only earn a profit if they also deliver a positive impact." (Forbes, based on a study commissioned by Zeno Group, June 2020)
But at Bozell, the concept isn't all that new. One of our core tenets that has endured for 100 years came directly from our co-founder, Morris Jacobs. He said, "I have stated on many occasions, as the head of Bozell & Jacobs, that we must 'pay rent for the space we occupy on this earth.' … As far as I am concerned, the satisfaction and pleasure I received as the head of a very successful advertising and public relations agency was equaled by the satisfaction and pleasure I received by volunteering what talents I had in efforts for the betterment of our fellow man."
To list all of Jacobs' charitable work would take more time than any of us have. But there is one story, taken from his memoirs, that exemplifies his character and selflessness when it came to the giving of his time and talents.
I had just gotten back from one of my business trips in 1955. I was called by my friend, Ed Pettis, who was treasurer of Brandeis Store. Ed told me that a few men were meeting at the office of Father Carl Reinert, President of Creighton University, to discuss an important civic matter. Could I come over? It turned out to be a strategy to get me to the meeting, where they'd get me to agree to head up a much-needed money-raising activity for Creighton.

When I heard what they were after, I told Father Reinert, and the group, that I would have been glad to take on this important assignment for Creighton. However, [my wife] Rae Sara, [daughter] Susie, I, and another couple had made plans to go to Europe on a much-needed vacation. All of our reservations were confirmed. So obviously, they'd have to look further for their volunteer. But Father Reinert wasn't about to give up. He stressed the great need, etc. Finally, I told them I wanted to think it over, and talk it over with Rae Sara, Susie, and the other couple involved.

As I was leaving, Father Reinert said to me: "Morris – I am going to get on my knees and pray all night that you will take on this important service for Creighton."

When I got home, I talked it over with Rae Sara and Susie. They insisted that this was a decision I had to make. I knew Creighton needed financial support badly. I told Rae Sara and Susie that knowing this would trouble me, all through the trip. I still wanted to give it more thought.

I awakened about 6:30 a.m. My mind was made up. Reaching for the telephone, I called Father Reinert. "Get off your knees, Father," I told him. "We will cancel the trip. I will head the drive." I can't tell you whether he was on his knees. I didn't ask him. He didn't tell me. But I can tell you that the money-raising campaign was a tremendous success. We passed the goal by many, many thousands of dollars."
Today, Bozell strives to uphold the legacy of Morris Jacobs with our vision to empower those who aspire to change the world. This vision, or purpose, was born out of the teaching "to pay rent for the space we occupy on this earth" and serves as their guide when it comes to making business decisions. That's why thousands of agency hours are dedicated to nonprofit work. It's why, to celebrate our 95th anniversary, we held a Free Ad Day – where we shut down the office and opened the doors to the community, developing 111 free pieces of creative for small businesses, nonprofits and individuals. And it's why we initiated ADvance Omaha – a partnership with AAF Omaha and other local agencies to help close the hiring gap within our own industry and support a more diverse group of creatives, marketers and developers in future generations.
For a tenet to endure for a century, it needs to be ingrained into the culture. For generations, our leaders have shown by example that they take giving back seriously – through their own personal contributions, work they have taken on as an agency, and by encouraging all employees to be involved in the charitable work of their choice. (Bozell even provides the work-day hours to make this possible for many of us.) This top-down approach is why this principle has survived for 100 years. And as Jackie Miller, CMO and co-owner, recently stated: "Morris Jacobs encouraged good beyond the walls of Bozell & Jacobs, and we still, to this day, hold 'paying rent' as a core driving force."